Jurassic World: Dominion Dominates Fandom Wikis - The Loop
Play Sound
Computer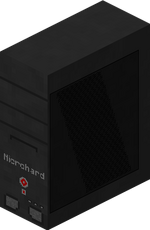 | | |
| --- | --- |
| Renewable | No |
| Stackable | Yes (64) |
| Tool | Pickaxe |
| Blast resistance | 1 |
| Hardness | 1.5 |
| Luminant | No |
| Transparent | No |
| Flammable | No |
| Catches fire from lava | No |

A computer is a block that consumes electricity and in turn provides various functions.
Obtaining
Breaking
A computer can be broken only using a pickaxe. If the computer contains items, the items are also dropped when the computer is broken.
Natural generation
Computers generate in certain structures, like observatories, office buildings and police stations.
Usage
In order to operate, a computer requires at least 12 units of electricity per tick. The computer does not need to be directly connected using a wire, as it automatically gets electricity from nearby energy poles.
The computer also requires several components - CPU, GPU, RAM, HDD, Motherboard, PSU, to be inside. These can be put inside, by shift-clicking the block with a screwdriver in hand. This opens a GUI, where each component has to be into correct slot.
Furthermore, starting computer requires some sort of an OS. To install one, you have to find or craft an installation CD, and shift-click the block with it.
In order to see what actually is going on with the computer, a monitor should be placed next to the computer (keep in mind the monitor also requires electricity). The monitor automatically connects to the computer.
Assuming all these steps are done, one can start the computer by right-clicking the computer without crouching.
Sounds
Data values
Advancements
History