(One intermediate revision by one other user not shown)
Line 1:
Line 1:
 
+

{{Removed}}

 
+
 

== BASIC INFORMATION ==

 

== BASIC INFORMATION ==

 

'''Old Wood''' is a the upgraded version of a''' Wood Frame''' and can also be upgraded further into Reinforced Wood. It can not be crafted using other materials, the only ways to obtain '''Old Wood''' are through upgrading a '''Wood Frame''' or using the Creative Menu.

 

'''Old Wood''' is a the upgraded version of a''' Wood Frame''' and can also be upgraded further into Reinforced Wood. It can not be crafted using other materials, the only ways to obtain '''Old Wood''' are through upgrading a '''Wood Frame''' or using the Creative Menu.

Line 8:
Line 10:
 

== UPGRADING ==

 

== UPGRADING ==

 

It is possible to upgrade '''Old Wood''' into '''Reinforced Wood.''' For upgrade you will need 1 Wood Plank.

 

It is possible to upgrade '''Old Wood''' into '''Reinforced Wood.''' For upgrade you will need 1 Wood Plank.

 
+

[[Category:WIP]]

 
+

[[Category:Wood]]

 
+

[[Category:Block]]
---
Latest revision as of 10:43, 7 July 2021
BASIC INFORMATION
Old Wood is a the upgraded version of a Wood Frame and can also be upgraded further into Reinforced Wood. It can not be crafted using other materials, the only ways to obtain Old Wood are through upgrading a Wood Frame or using the Creative Menu.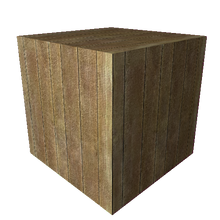 CREATING
Old Wood can be created by simply clicking on Wood Frame with wood plank in hand.
UPGRADING
It is possible to upgrade Old Wood into Reinforced Wood. For upgrade you will need 1 Wood Plank.